Archaeological Site of Cyrene
Date of Inscription: 1982
N32 49 30 E21 51 30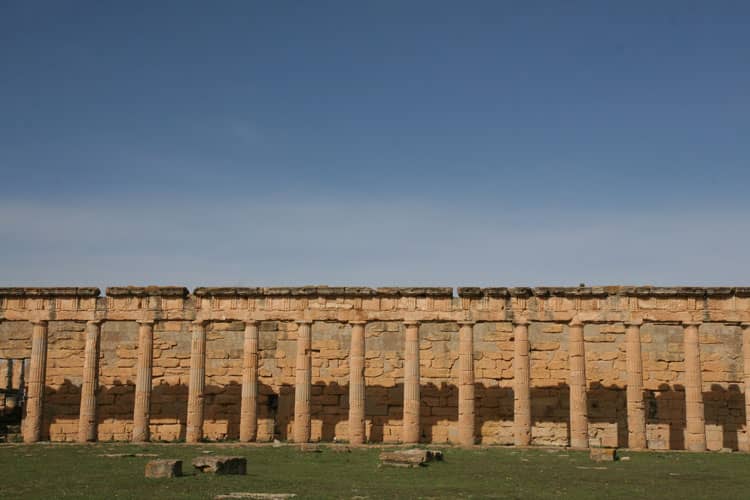 Cyrene was an ancient Greek colony in present-day Shahhat; Libya, the oldest and most important of the five Greek cities in the region. It gave eastern Libya the classical name Cyrenaica that it has retained to modern times. Cyrene lies in a lush valley in the Jebel Akhdar uplands. The city was named after a spring, Kyre, which the Greeks consecrated to Apollo. It was also the seat of Cyrenaics, a famous school of philosophy in the 3rd century BC, founded by Aristippus, a disciple of Socrates. Now Cyrene is an archeological site near the village of Shahhat. One of its more significant features is the temple of Apollo which was originally constructed as early as 7th century BC. Other ancient structures include a temple to Demeter and a partially unexcavated temple to Zeus.
Archaeological Site of Sabratha
Date of Inscription: 1982
N32 48 19.008 E12 29 6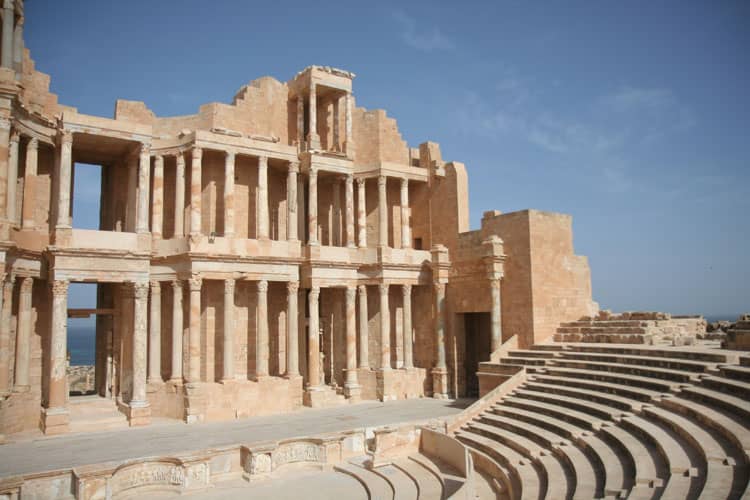 Sabratha, in the Az Zawiyah District in the northwestern corner of modern Libya, was the westernmost of the "three cities" of Tripolis. From 2001 to 2007 it was the capital of the former Sabratha Wa Surman District. Sabratha's port was established, perhaps about 500 BC, as a Phoenician trading-post that served as a coastal outlet for the products of the African hinterland. Besides its magnificent late 3rd century theatre that retains its three-storey architectural backdrop, Sabratha has temples dedicated to Liber Pater, Serapis and Isis. There is a Christian basilica of the time of Justinian and also remnants of some of the mosaic floors that enriched elite dwellings of Roman North Africa. However, these are most clearly preserved in the coloured patterns of the seaward (or Forum) baths, directly overlooking the shore, and in the black and white floors of the Theatre baths.
Date of Inscription: 1986
N30 7 60 E9 30 0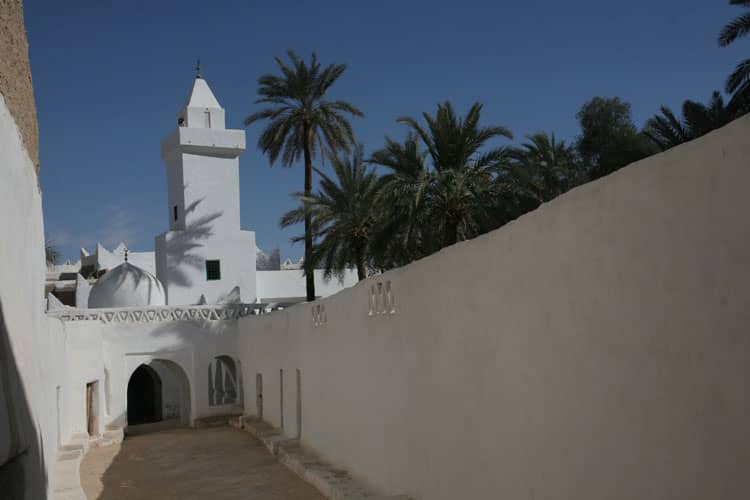 Ghadames is an oasis town in the west of Libya. It lies roughly 549 km in the southwest of Tripoli, near the borders with Algeria and Tunisia. The oasis has a population of 7000 Tuareg Berbers. The old part of the town, which is surrounded by a wall, has been declared World Heritage of the UNESCO. Each of the seven clans that used to live in this part of the town had its own district, of which each had a public place where festivals could be held. The first records about Ghadames date from the Roman period, when there were troops in the town from time to time. The Roman name for the town was Cydamus. Houses in Ghadames are made of mud, lime, and palm tree trunks with covered alleyways between them to offer good shelter against summer heat. In the 1970s, the government built new houses outside of the old part of the town. However, many inhabitants return to the old part of the town during the summer, as its architecture provides better protection against the heat.